ONE CLASSIC Portable Speaker - Matt Black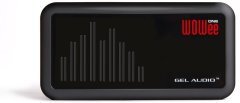 Click to enlarge
available: no
This product is not available
Specifications
The WOWee ONE is a compact portable speaker that delivers incredible quality sound, including low-end bass frequencies and handles a dynamic range of signal inputs. Compatible with iPod, iPad, iPhone, and mobile phones. Includes built in rechargeable battery.
The WOWee ONE CLASSIC uses a hybrid technology of a standard speaker that delivers the mid to high frequencies, and a Gel Audio™ driver that delivers low end bass frequencies. The extended low frequency response of the Gel Audio™ speaker out-performs any similar size device by producing bass frequencies around 3 octaves below the low end cut-off of a traditional unit.
The unit is powered by an internal rechargeable battery and can deliver up to 20 hours of playtime per charge. It can be recharged via computer USB or a 5V USB power adapter using a plug. A built-in audio limiter allows the WOWee ONE CLASSIC to handle a wide dynamic range of signal inputs.
The WOWee ONE CLASSIC is available in 4 different styles, Polar White, Classic Black, Sophisticated Chrome and Pretty Pink.
There are also two limited edition MTV branded WOWee ONE speakers, available in Rocking Red and Soulful Black.
WOWee ONE Classic Specifications
| | |
| --- | --- |
| Dimensions (WxLxH): | 60 x 120 x 25.8 mm |
| Product Weight: | 200g |
| Driver: | 1 x conventional Cone speaker, 1 x Gel Audio™ driver |
| Frequency Response: | 40Hz ~ 20kHz |
| Amplifier: | D-Class |
| Output Power: | 2W RMS |
| Input Power: | 5V DC (via mini USB) |
| Rechargable Battery (Built-in): | Lithium Ion 3.7v |
| Playback Duration: | Up to 20hrs |
| Audio Input: | 3.5 mm audio jack |
| Compatible: | iPod™, iPad™, mp3, mp4, mobile phone and computer applications. |
| Pack includes: | USB Charging cable, 3.5mm Jack cable |
Customers who bought this product also purchased