Arctic - old
Sound E221-BM - Mobile Phone earphone Mic/Black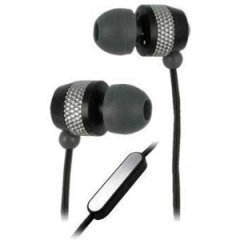 Click to enlarge
available: no
This product is not available
Specifications
The ARCTIC SOUND E221 is the ideal entry-level earphones. It fits perfectly into your ears and offers great noise isolation.

Remarkable Sound Quality

The ARCTIC SOUND E221 is equipped with large driver coils which reproduce pleasant bass, fine highs and clear vocals without distortion. The chassis transmits a perfect balance of high and low frequencies. Furthermore, the gold-plated 3.5mm connector offers uncompromised signal transmission and corrosion resistance.

Comfort Fit

To achieve top-notch listening experience, the ARCTIC SOUND E221 is packaged with three sets of ultra-soft silicone caps in small, medium and large sizes. Wearing comfort can be personalized by choosing the most suitable cap size that fits best for your ears, so that they stay comfortable even after prolonged use.

Multi-Functional and Multi-Compatible

The ARCTIC SOUND E221 features a microphone version. This delicate microphone is ideal for phone calls and online communications such as Skype and MSN voice calls. A 3.5mm TRRS plug is equipped for transferring both microphone and earphone signals, which is ideal for mobile phones as well. To use the earphones on PCs that only support the standard 3.5 stereo plug, it is necessary to use the adapter provided.
Frequency Response (Hz-kHz)
20-20
Dimensions (Packaging)
182 L x 95 W x 25 H mm
Sensitivity (dB/mW)
101
Impedance (ohm)
32
Output Power (mW)
3
Plug
3.5mm
Cable (m)
1.3
Limited Warranty
2

years

UPC
E221 BLACK (W.Mic) : 0872767003200
E221 BLACK (W/O Mic) : 0872767003194
E221 WHITE (W. Mic) : 0872767003224
E221 WHITE (W/O Mic) : 0872767003217
itemnumber
ORACO-ER015-GBA01
UPC


Gross Weight
0.13 kg
Customers who bought this product also purchased