Arctic

Arctic Fan 12L - 120mm


[

Arctic Fan 12L

]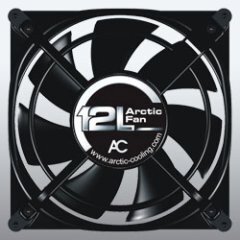 Увеличи
на склад:

не
Продуктът не е наличен
Характеристики
120 mm Case Fan

Best Noise-Performance Ratio

Patented Case Design

Patented Vibration Absorption

Compatible with toolless Mounting Mechanisms for Standard 25 mm deep fans

6 Years Warranty
The Fluid Dynamic Bearing offers a unique 400'000 h MTTF at 40°C. Therefore we grant a unique 6 years warranty.
Dimensions:
120 x 120 x 38.5mm
Rated Fan Speed:
1000 RPM
Air Flow:
37.0 CFM / 62.8 m3/h
Noise Level:
20.0 dB(A), 0.3 Sone
Power Consumption:
12 V, 0.15 Amp.
Weight:
126 g
Bearing:
Fluid Dynamic Bearing
Connector / Cable Length:
3 Pin Molex / 400mm
Safety Approvals:
CE
09/2006
Rexware: Arctic Fan L
Except the big thickness which can still be disturbing, Arctic Fans L are good fans and a very better value for silence and performance than the old series.
09/2006
Overclock3D: Arctic Fan L
To be quite honest the Arctic Cooling 12L and 8L fans are quite impressive. Now I'm not intending to wax lyrically about Arctic Cooling, but these fans are well worth the US$5.99 (8L) and US$9.99 (12L) respectively. Firstly, the R & D that has gone into them is very apparent, the build quality is extremely good right down to the classy cable sleeving provided as standard. The silence that these fans provide whilst performing more than adequately, is testament again to the skilled design team at Arctic Cooling. Especially considering that these fans operate at such low RPM. Secondly, the included 6 year warranty is nothing to be sneezed at, thanks to the fluid dynamic bearing that is included, as opposed to the traditional ball bearing approach of other manufacturers.
09/2006
DragonSteelMods: Arctic Fan L
These fans are very cool looking fans. The design of the Arctic Fans works well, it makes them whisper quiet. These would be great for anyone looking to replace their loud stock fans or even better for use in an HTPC system where you want the noise level to be as low as possible. I found nothing wrong with these fans they are excellent, and I can easily recommend them. DragonSteelMods gives the Arctic Cooling- Arctic Fan 8L and 12L fans a 5 out of 5 and our Recommended Award as well.
09/2006
Modding-factory: Arctic Fan L
"Der Arctic Fan L ist der wahrscheinlich leiseste Ventilator bei gegebenem Luftstrom". Diese von Arctic Cooling versprochene Leistung ließ sich in unserem Test definitiv belegen. Diese neue Lüfterreihe von Arctic Cooling besticht durch die sehr geräuscharme Kulisse, großem Spielraum bei den Drehzahlen und innovative Technologie. Bei einem Preis von 4,90 EUR des 8L bzw. 7,90 EUR des 12L (Preis: 16.09.2006 arctic-cooling.com) können wir definitiv eine Kaufempfehlung aussprechen, wenn Wert auf Schlichtheit und Lautlosigkeit im PC-Gehäuse gelegt wird.
09/2006
RubyWorks: ArcticFan L
The Arctic Fan L are truly great fans. The 80mm version of the fan is o­nly $5.99 and the 120mm version for $9.99. This is a bit o­n the pricey side but well worth it. The quality of the fans easily surpasses the MSRP. They are truly very silent and a great addition or replacement for HTPC users. However Arctic Cooling's fans always get battered in o­ne area, they cannot be used as intake. The fans can o­nly be mounted o­ne way, allowing them o­nly to be exhausts. Besides that fact, these fans are perfect. The Arctic Fan L truly earn the 9.5 out of 10 rating.
09/2006
Young Modders: Arctic Fan L
Die neue L Serie von Arctic Cooling kann zu den Lüftern der nächsten Generation gezählt werden. Die Lautstärke, spezielle Entkopplung und die Förderleistung sind ausgezeichnet. Im Moment kenne ich keinen Lüfter der spürbar leiser ist. Alles in allem eine super Empfehlung!
09/2006
Neeks PC Playground: Arctic Fan L
Every test I have done I could o­nly hear the gentle sound of air rushing by if I put my ear next to the fan. I set the fans o­n a hardwood floor, in a cardboard box and o­n a peace of metal and even when I put my ear next to the fan I could not hear either the 8L or the 12L. These fans put out the most CFM for there noise leva and would be perfect for those who want a quiet media center or a ultra quiet computer. I give both fans a 9 out of 10.
Посетителите, който закупуват този артикул също така избират