Arctic
Arctic Fan F8 TC - 80mm/500-2000rpm
[
AFACO-080T0-GBA01
]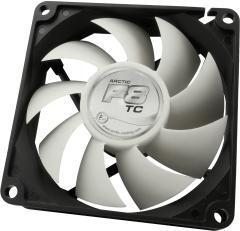 Click to enlarge
Specifications
Application: 80mm Case Fan


Temperature Controlled Case Fans
The ARCTIC F TC (Temperature Control Fan) is a case fan that regulates itself by signaling an appropriate fan speed to provide optimal air ventilation within a PC case. This technology incorporates a fan controller on board – users can simply plug-and-use without adjusting BIOS system since the fan is able to run by itself.

Main feaures


• 40cm long temperature sensor for accurate fan speed control
• Cable can be positioned in wherever necessary
• Extremely quiet
• High airflow and static pressure
• Low noise impeller
• Fluid dynamic bearing extends service life
The Sensor Cable in ARCTIC F TC Fan
The new ARCTIC F TC Fan features a temperature sensor cable to detect internal temperature and regulate fan speed automatically. The relationship between the detected temperature and fan speed is positively correlated – the warmer the temperature, the faster the fan speed would turn. With a 40cm long intelligent sensor probe, it is very flexible for users to attach it to anywhere that can accurately detect the internal case temperature.
The ARCTIC F TC Fan is connected with a three-pin connector and is available in three standard sizes: 80mm, 92mm and 120mm. Its mounting frame is 25mm thick with screw holes on both sides, which can be mounted in both ways for blowing or extracting air in the computer case. This offers great flexibility for users to install it as an intake or outtake fan.



As depicted in the diagram, when the ambient temperature is below 32°C, the fan speed remains relatively stable at its minimum spinning rate, 500 RPM. This speed gives adequate ventilation at lowest noise level. The steep curve signifies that when the detected temperature reaches above 32°C, the fan speed rapidly increases to 2000 RPM to provide immediate cooling. Since it is optimal to keep case temperature between 30°C to 38°C, the temperature controller signals the fan and reduces the heat drastically when it reaches above the critical range.

The Blades
The ARCTIC F TC Fan is equipped with nine blades to efficiently create higher airflow inside a computer case. This refined "ninja-knife" design improves laminar air flow while reducing noise level at the same time. The nine-blade fans have proven to operate at 20% higher efficiency than regular seven-blade ones as it can increase airflow rate and remain nearly inaudible at most times.

Since the ARCTIC F TC Fan incorporates the technology of sensor cable and a two-way mountable frame, it is a flexible and ultimate cooling solution with efficient cooling performance at a minimum noise level. The ARCTIC F TC Fan can certainly improve computer case ventilation system entirely and effectively.

| | | |
| --- | --- | --- |
| Dimensions: | | 80 L x 80 W x 25 H mm |
| Fan Speed: | | 500 - 2,000 RPM |
| Air Flow: | | 28 CFM / 47.6 m3/h |
| Bearing: | | Fluid Dynamic Bearing |
| Noise Level: | | 0.01 - 0.3 Sone |
| Weight: | | 72 g |
11 / 2010




KitGuru : ARCTIC F TC Fan




These fans run quiet, shift a decent amount of air and represent great value for money.
10 / 2010




PC HS : ARCTIC F9 TC




ARCTIC F9 TC is a case fan with classic design equipped with a rigid frame. With ARCTIC's bundled screws, installing the ARCTIC F9 is very easy. Its 40cm cable length allowed us to place in the case anywhere without any problems. We are satisfied with its performance in maintaining the temperature control. We are proud to give this product our 'Best Award'.
09 / 2010




EasyCOM.com.ua : ARCTIC F TC




The ARCTIC F TC uses a reliable bearing, which makes it a very durable product. The series can cool down the temperature in an efficient and quiet way. The temperature sensor is long enough for multi-usage, including cooling hard disk and PC case.
09 / 2010




HW Review Labs : ARCTIC F9 TC




ARCTIC F9 TC is built with high-quality materials. It can maintain low noise levels when the case temperature is low, but it can also provide serious airflow when needed. The main advantage of the TC sensor is that it allows the user to have optimal silence and airflow at all the times.
09 / 2010




Cooling Technique : ARCTIC F12 TC




ARCTIC F12 TC is a high-quality case fan made with good-quality materials. The fan is well-balanced in terms of its airflow and noise. Its low price is very inviting for such performances.
Customers who bought this product also purchased