Genesis

Mouse cable holder / Active 3xUSB3.0 Hub / MicroSD card reader - Vanad 750


[

NBU-0819

]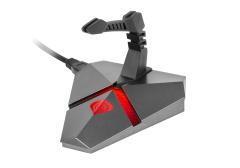 Click to enlarge
Specifications
Tangled Up Cords Not A Problem Anymore

When choosing between a cable and a wireless mouse gamers more often will select the wired device. Unfortunately, its cord often gets tangled up, thus increasing the feeling of weight and decreasing the speed. The Genesis Vanad 750 mouse bungee aims to solve this problem.
The Vanad 750 enables relief for the mouse cord in any part of its length, providing better speed and movement as well as preventing the cable from getting tangled up. In contrast to other mouse bungees, however, this is only the beginning of this product's applications.
The device can function as a HUB as well as it it equipped with three USB 3.0 ports. This gives the gamers the capability of connecting additional devices to their Vanad 750. The mouse bungee is also equipped with a micro SD card reader.
To guarantee stability the device is covered in rubber to ensure that the device does not slide. The manufacturer wants to provide the best transport conditions, so the device's base and pillar can be disconnected.
Product features:
Ports: 3 x USB 3.0
Card reader: Micro SD
Cord length: 1,2 m
Size: 116 x 103 x 110 mm
Friday 24 May, 2019
Copyright © 2002-2019 Dekada Digital
tel. +359 2 9433005 , +359 2 9434736 fax +359 2 846 39 10