Arctic

MX-2 Thermal Compound 4gr


[

OR-MX2-AC-01

]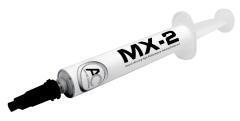 Click to enlarge
Specifications
Application:
CPU, GPU and other applications between power semiconductor components and heat sinks.

High Performance Thermal Compound for the Enthusiast
MX-2 is a high thermal conductivity and low thermal resistance compound for components that require optimum thermal dissipation. It is ideally suited for use in CPU, GPU cooling and other applications between power semiconductor components and heat sinks where thermal conductivity is a major factor.
Main Features:
High Thermal Conductivity
Low Thermal Resistance
Non-Electrical Conductive
Non-Capacitive
Non-Curing
Non-Corrosive
No Bleeding
Odorless
Safe to apply anywhere
Since the MX-2 does not contain any metal particles, there are no problems regarding electrical conductivity or capacitance. Unlike other silver and copper compounds, MX-2 ensures that contact to electrical traces, pins and leads cannot result in any damage.
Durability
With MX-2 no curing and no bleeding of the compound are possible. In contrast to other products, this compound does not show decreasing performance over time, does not need to be reapplied and has a durability of at least 8 years.
Performance:


- Tested with: Intel Core 2 Duo E6300 overclocked at 2.8GHz.
- Data source: MVKTech mvktech.net/content/view/3568/
All brands and products are registered trademark or trademarks of their registered companies.
| | | |
| --- | --- | --- |
| Density: | | 3.69 g/ cm3 |
| Viscosity: | | 2850 poise |
| Net Weight: | | 4 g |
09/2007
Gamezoom.net

Bereits für unter drei Euro ist die neue Arctic Cooling Wärmeleitpaste MX-2 im Handel erhältlich. Nicht nur der günstige Preis ist ein Pluspunkt für dieses Produkt, sondern auch die ausgezeichnete Leistung. Cooling-Experten aber auch Sparfüchse können bedenkenlos zu unserem Testmuster greifen.
08/2007
Svět hardware: MX-2

I would choose a compromise - Arctic Cooling MX-2 which according to the results offers the best price - performance ratio.
08/2007
APH Network: MX-2

Excellent thermal paste. It certainly provides the best performance out of all.
08/2007
DragonSteelMods: MX-2

Not o­nly is the Arctic Cooling MX-2 thermal compound better performing that AS5, it also has the added features of not being conductive. The MX-2 does that in that it is non-conductive so there are no worries of accidentally hitting a trace circuit and shorting your system or worse.
08/2007
Techzine: MX-2

Once again Arctic Cooling has proved itself, because of the remarkable cooling performance of the thermalpaste they out run many competitors. Performance makes it up more than well.
08/2007
Ultimate PC: MX-2

Overall I would say that this MX-2 is a must buy. As it is so easy to apply, it saves a lot of hassle. Being non-conductive is a great bonus as it does save your electrical components from death if you did accidentally drop some paste o­nto it. It cooled quite well, especially compared with the AS5 which is o­ne of the most well known thermal compounds available.
08/2007
RexWare: MX-2

Arctic Cooling proposes us a very good thermal compound, better than the competitors of our review. The best point is its life durability: 8 years.
07/2007
Area3d.ch: MX-2
Arctic Cooling hat hervorragende Arbeit geleistet. Die MX-2 leitet die Wärme nicht nur optimal an den Kühlkörper, sie lässt sich auch noch wunderbar verteilen und einfach entfernen.[...]
Auch wenn wohl niemand mehr erwartet hat das nach der Arctic Silver V noch einmal wirklich eine Verbesserung kommt, die MX-2 hat es geschafft und verdient sich unseren Award in Gold.
07/2007
DriverHeaven.net: MX-2

The temperature reducing benefits of Arctic Cooling's MX-2 Thermal Compound are clear to see. Whilst these results are impressive as is.
07/2007
hardwaretech: MX-2

This paste can produce excellent results in the case for the video, and the processor. MX-2 is an excellent choice for enthusiasts. Ultimately, the use of MX-2 will make significant gains in efficiency cooling.
07/2007
TweakTown: MX-2

the MX-2 compound from Arctic Cooling has shown that it is up to the challenge of taking o­n the big guns known as Arctic Silver.
07/2007
Tweak.dk: MX-2

Arctic Cooling MX-2 takes the lead. MX-2 can really help you cool down your processor.
07/2007
59 Hardware: MX-2

Its performances are very interesting within the framework of our tests. It is the dream, well-sure; no harmful effect is to be regretted, even with the Turbo Module installed. o­n this last our matter will be measured more, its effectiveness is quite real and undeniable.