Noiseblocker
140mm NB-BlackSilentPRO PK-3 - 1700rpm
[
ITR-PK-3
]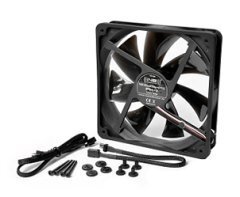 Click to enlarge
available: no
This product is not available
Specifications
The new premium fan Series based on the frame of the NB-BlackSilentFan, the electronic NB-EKA Plus and the bearing NB-NanoSLI is based on the High End Series NB-Multiframe.
Beside the technical settings the BlackSilentPro fans are equipped with an individual prolongable cablemanagment.
The new developed mountingset incl. the "NB-Silentframe" with the complement rubber part and the long screws with knurled nuts for tool-free assembly is also included.
Product Information

Performance
Loudness (db)

1700 U/min
Highspeed: < 153 m³/h
2,40 Watt


27 dBA

EAN Code : 4250051904475

TYP : casefan, radiatorfan, power supply fan
speed range : 4,5/ 6/ 9/ 12 V = 780/ 990/ 1380/ 1700 U/min
Details:
Original (((Noiseblocker))) Quality


extrem silent, reliable and fail-proof

Cablemanagment
sleeved cable 20 + 50cm
mountingset "vibration free"


Silentframe siliconframe / gasket + knurled nut

gasket for more pressure e.g for radiator etc.


perfect sealing for more air pressure

nearly no impuls noise by NB-EKAPlus Drive
nearly noiseless NB-NanoSLI bearing
startvoltage 4,5V
autorestart Funktion
cool design black foggy / glossy transparent
Technical Specs :
Size : 140x140x25mm
Weight : 135g
Rated Voltage: 12 V
Operating Voltage: 4-13,8 V
Start Voltage: 4,5 Volt
Input Power: 0,72 Watt
Input Current: 0,20A (Max)
RPM : 1700 (+/- 10%)
Dielectric Strength: 5 mA (Max)
Static Pressure: 1,781 mm-H2O
Airflow : 153 m3/h (12V) / 90CFM
acoustical noise: ca. 27 dB/A
MTBF (25°C) : 120 000 Std.
Connector : plugable 3 Pin Molex with signal wire
Warrenty : 6 years
Developed of and with customers !
The equipment of the new fans, which shall requires to the users needs as optimally as possible, was hot discussed by the members of the online Community of Hardwareluxx.de. There were different views regarding the optimal RPM and the necessaryairflow. In addition, detailed equipment characteristics such as autorestart function, controllability, cable length or optics played an important role on the user side. The details of the discussion can be reread in the forum Thread of hardwareluxx.de: http://www.hardwareluxx.de...

Developed with the online community of Hardwareluxx
Awards

Customers who bought this product also purchased