Arctic
Arctic Fan F12 Pro - 120mm/1500rpm
[
AFACO-12P00-GBA01
]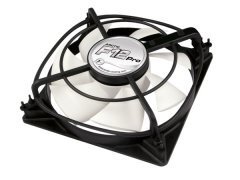 Click to enlarge
Specifications
Application:
120mm Case Fan
Ultra Quiet High Performance Case Fans

The ARCTIC F12 Pro is exceptionally quiet and cost-effective. Thanks to the patented fan holder and vibration absorption design, these fans are whisper quiet during operation. They are ideal for any cases including HTPC systems.
Main features

• Best noise-performance ratio
• Patented fan holder eliminates the buzzing sounds
• Patented vibration absorption
• High airflow and static pressure
• Fluid dynamic bearing extends service life
• Compatible with screwless mounting
Why the ARCTIC F Pro fans are quieter than the others?
Over the years, ARCTIC COOLING has built excellent reputation for producing quiet case fans, and the ARCTIC F Pro fans are no exception. The patented vibration absorption is the key to keep the ARCTIC F Pro fans outperform other standard case fans on the market. This sophisticated feature absorbs vibration caused from spinning, offering quiet and stable operation.
User-friendly installation and long service life
Installation can never be easier. Users can mount the ARCTIC F Pro fans on the PC case by the four screws provided. Alternatively, these fans can be installed with screwless mounting mechanism provided in the chassis. Long service life is another advantage of this fan series. Fluid dynamic bearing reduces rotation friction and seals the lubricant precisely in the bearing. As a result, the ARCTIC F Pro fans are highly durable case fans for heavy users.
Dimensions

120 L x 120 W x 38.5 H mm
Rated Fan Speed
1500RPM
Air Flow
57 CFM / 96.8 m3/h
Noise Level
0.5 Sone
Bearing
Fluid Dynamic Bearing
Weight
140 g

Patents
DE 20307981, DE 202005011514
US 7101149, CN 200610106209
09 / 2009
Overbr: ARCTIC F8 Pro


The ARCTIC F8 Pro is different than we are accustomed, is the extreme quiet, beautiful and pleasant. It has a great flow of air. It is efficient and has great quality. If we add all its qualities to the market price, he is champion.
Customers who bought this product also purchased