Arctic
Arctic Fan F8 PWM PST - 80mm/700-2000rpm
[
AFACO-080P0-GBA01
]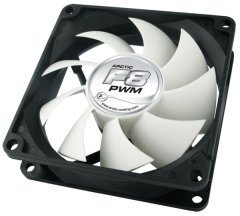 Click to enlarge
Specifications
Application:
80 mm PWM Case Fan

High Performance Case Fans with PWM Sharing Technology

The ARCTIC F PWM fans outerperform other 80mm/92mm/120mm fans in the market. The patented PWM Sharing Technology (PST) regulates the speed up to 5 fans via BIOS. With efficient central cooling, the ARCTIC F PWM fans offer excellent cooling and noise control performance for the system.

Main features

• Patented PWM Sharing Technology (PST)
• Extremely quiet
• High air flow and static pressure
• Low noise impeller
• Fluid dynamic bearing extends service
life

How does PST lower the temperature of the entire case?

Featuring PWM function, the ARCTIC F PWM fans run at the most necessary speed to deliver maximum cooling capacity at the lowest noise level possible. On top of that, thanks to the patented innovative PWM Sharing Technology (PST), up to 5 fans (including CPU fans) can be connected to the ARCTIC F PWM fan to share the PWM signal. The speed of all the fans in this PST system is now centrally controlled by a single PWM signal via BIOS.

As a result, when the system load increases, fan speed of all fans connected in the PST system will be increased in order to lower the case temperature. Likewise, when the load is low, these fans will operate at a relatively low speed for sufficient cooling.

In conclusion, the advantages of having PST are:

| | |
| --- | --- |
| (1) | Control the speed of different fans with only one PWM signal from the mainboard |
| (2) | Case ventilation can be achieved in a quiet and efficient way. More fans run slower at low load, which deliver sufficient cooling at a much quieter operation than before |
| (3) | Better energy saving as fans are not always at full load |
| | | |
| --- | --- | --- |
| PST: | | PWM amplifier integrated on motor circuit |
| | | 4 pin plug for receiving power and PWM signal from motherboard |
| | | 4 pin socket for CPU cooler or second fan |
| | | 3 pin plug to send fan RPM signal to motherboard |
| Dimensions: | | 80 L x 80 W x 25 H mm |
| Rated Fan Speed: | | 700 - 2000 RPM (controlled by PWM) |
| Air Flow: | | 28 CFM / 47.6 m3/h |
| Noise Level: | | 0.3 Sone |
| Weight: | | 70 g |
| Bearing: | | Fluid Dynamic Bearing |
10 / 2009




Techgiant : Arctic F PWM Fan Series




Thanks to the patented PWM Sharing Technology the fans from ARCTIC COOLING stay silent but still work effective, specially when several fans are linked by PST.
The buffered-mounting makes the fans spinning silently, even under full load.
10 / 2009




Freeocen.de : Arctic F PWM Series




Finally we can say, that ARCTIC COOLING launched with the ARCITC F PWM-Sereies a very nice product. The fans were pleasantly silent, when they were connected to a PWM-socket.
The PWM Sharing Technology is a great feature giving the chance to control a complete case-fan-system via one PWM-Signal through the BIOS.
This way it's easy to setup a case-ventilation system without the need of a fan-controller and create a silent yet powerful system.
Customers who bought this product also purchased