Arctic
Case SILENTIUM T11 Black - 2x 120mm TC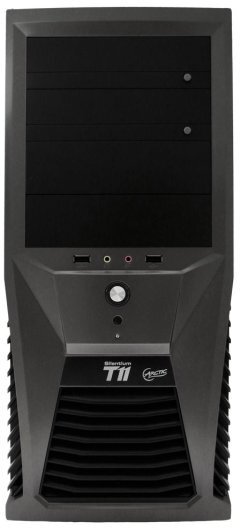 Click to enlarge
available: no
This product is not available
Specifications
Chassis with Quality and Durability
Choosing a well-made chassis for computer core components is an initial and critical decision for computer builders. A chassis nowadays is more than just a skeleton to provide structure for the components, it should also be a framework that allows good and silent cooling, and have a stylish appearance at the same time. The new chassis, ARCTIC Silentium T11, contains all the superior qualities that any computer users may look for. This series is affordable, yet offering exceptional durability, expandability and accessibility to users.
Advanced ventilation with two temperature controlled 120mm fans for superior airflow and maximum cooling performance at a minimum noise level
Supports up to 14" high-end VGA boards
Screwless installation for 5.25" device bay for quick assembly and maintenance
Front USB and audio ports allow you to quickly connect external devices
Sturdy and durable steel construction provides a solid foundation for your PC
The ARCTIC Silentium T11, available in black and white, is a mid-tower. The design of this chassis features sturdy and durable steel construction that provides solid foundation for computer internal hardware. There are two USB and audio ports on the front of the chassis to allow users to connect external and audio devices easily.
| | | |
| --- | --- | --- |
| For visual appearance, the front panel also includes two covers to conceal CD-ROM and DVD-writer device bays. It contains four 5.25" external drive bays and one 3.5" internal drive bay. With an additional hard disk plate included with purchase, one external drive bay can be transferred to an internal drive bay. Its design also supports up to 35cm long of high-end VGA boards. The spacious space inside the chassis is ideal for overclockers to install and upgrade up to seven expansion cards. The ARCTIC Silentium T11 also showcases tool-free installation for quick assembly and upgrade. Side panel slides open easily with thumb screws. Similarly, tool-free and screwless installation for mounting 5.25" drive bays is also very convenient for builders. | | |
The Case with ARCTIC Temperature-Controlled Fans
The ARCTIC Silentium T11 comes with two temperature-controlled ARCTIC 120mm fans. These controlled fans complement with the framework of the chassis to provide adequate airflow and offer maximum cooling performance at a minimum noise level. The temperature controlled fans are ideal to provide sufficient ventilation inside the chassis.
Since these fans are able to self-regulate their speed and work automatically according to the internal chassis temperature, further adjustments in computer settings are not required. The speed of the fan is able to remain at its lowest rpm at most times. This is to offer adequate ventilation at lowest noise level possible. However, the fan speed is adjusted to its maximum to provide instant cooling when the internal temperature reaches its critical range.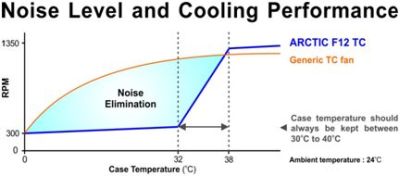 As indicated in the diagram, the steep curve allows the heat to be dissipated rapidly, hence achieving immediate cooling performance.
The Air Flow inside the Chassis
Unlike other generic PC cases, the design of the ARCTIC Silentium T11 is different in several ways to provide maximum cooling capacity to the internal computer hardware. Besides the two intaking fans, The ARCTIC Silentium T11 incorporates an unprecedented feature, a VGA air hood, to guide intake air directly to the VGA board. The air hood acts as a tunnel to trap the incoming air to flow into the VGA board directly and thus, provide maximum cooling effect to the VGA board.
The rear fan pulls in cool air into the case and gives sufficient cool air to the CPU. The CPU is then able to maintain at a low temperature since the rear fan is feeding cool air into the CPU cooler. This is what makes the ARCTIC Silentium T11 to be superior since it offers new fan ventilation technology.
All in all, the ARCTIC Silentium T11 is an ultimate computer case for anybody – from personal or home office users to professional overclockers. Since it is embedded with high-quality and convenient features, the ARCTIC Silentium T11 is an excellent option when choosing a computer case.
Specification
MB Form Factor:

Full / Micro ATX

Material:

SECC

Power Supply:

Not Included

Drive Bays:

Up to 4 x 5.25" (external)




Up to 2 x 3.5" (internal)

Expansion Slots:

7

Front Panel I/O:

2 x USB 2.0, 2 x Audio

Fans:

2 x 120mm ARCTIC F12 TC

Dimension:

49 (L) x 43 (H) x 19 (W)

Net Weight:

5kg
Review
11 / 2010




KitGuru : ARCTIC Silentium T11




We love the unique 'air hood' that Arctic have installed in the case as it really helps to cool the graphics card effectively despite being implemented in the cheapest possible way to retain the case's low price. If you would prefer the case without it, though, it is easily removable.
09 / 2010




PC Games Hardware : Silentium T11




The Silentium T11 is a real saving tip for silent friends. The somewhat unusual cooling concept of the Swiss engineers is working out perfectly, the system is despite it's low noise well cooled in all scenarios. Temperature-controlled fans are in this price range, a rarity. Thanks to the air tunnel, the case can also hold and cool high-performance graphics cards perfectly.
08 / 2010




c't : Silentium T11




The Silentium T11 is breaking moulds with it's case ventilation system: The temperature-controlled 120 mm fans keep the system temperature in a healthy range. The rear fan is also blowing into the system and thus feeding the CPU with cool air.
Customers who bought this product also purchased