Noctua
CPU Cooler NH-C14 775/1155/1366/AMD
[
NH-C14
]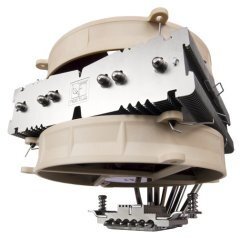 Click to enlarge
available: no
This product is not available
Specifications
The NH-C14 brings top-flow cooling to a new level by offering an exquisite, uniquely flexible 140mm dual fan setup: The two supplied NF-P14 premium fans can be installed on top and underneath the fin-stack to configure the cooler for maximum performance in dual fan mode and either lower profile (105mm) or maximum component clearance in single fan modes. Bundled with the award-winning NT-H1 thermal compound and Noctua's SecuFirm2™ multi-socket mounting system, the NH-C14 is a highly flexible, premium-class top-flow solution that further boosts the renowned quiet cooling performance of the much acclaimed NH-C12P series.
Specifications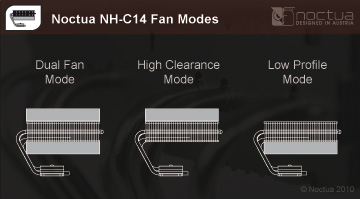 Socket compatibility
Intel LGA1366, LGA1156, LGA1155, LGA775 & AMD AM2, AM2+, AM3 (backplate required)
Height (without fan)
105 mm
Width (without fan)
140 mm
Depth (without fan)
166 mm
Height (with fan)
130 mm
Width (with fan)
140 mm
Depth (with fan)
166 mm
Weight (without fan)
700 g
Weight (with fan)
850/1000* g
Material
Copper (base and heat-pipes), aluminium (cooling fins), soldered joints & nickel plating
Fan compatibility
140x140x25mm / 120x120x25mm
Scope of Delivery
2x NF-P14 premium fan
Low-Noise Adaptor (L.N.A.)
Ultra-Low-Noise Adaptor (U.L.N.A.)
NT-H1 high-grade thermal compound
SecuFirm2™ Mounting Kits
Noctua Metal Case-Badge
Warranty
6 Years


Fan specifications
Model
Noctua NF-P14
Bearing
SSO-Bearing
Rotational Speed (+/- 10%)
1200 RPM
Rotational Speed with L.N.A. (+/- 10%)
900 RPM
Rotational Speed with U.L.N.A. (+/- 10%)
750 RPM
Airflow
110,3 m³/h
Airflow with L.N.A.
83,7 m³/h
Airflow with U.L.N.A.
71,2 m³/h
Acoustical Noise
19,6 dB(A)
Acoustical Noise with L.N.A.
13,2 dB(A)
Acoustical Noise with U.L.N.A.
10,1 dB(A)
Input Power
1,2 W
Voltage Range
12 V
MTBF
> 150.000 h
Details
C-Type top-flow design
The NH-C14's six heatpipe c-type design allows for superb quiet cooling performance while maintaining a much lower profile than today's tower-style coolers and providing excellent airflow over RAM modules and near-socket mainboard components.


Dual NF-P14 FLX fans
The NH-C14 comes with two of Noctua's award-winning, premium quality NF-P14 140mm fans that can be fine-tuned according to the user's needs via the supplied Low-Noise (L.N.A.) and Ultra-Low-Noise Adaptors (U.L.N.A.).


Low Profile Mode
Run with a single NF-P14 fan underneath the fin stack and with the top fan removed, the NH-C14 measures only 105mm in height, which makes it ideal for use in smaller enclosures and HTPC applications.


High Clearance Mode
The lower NF-P14 fan can be removed in order to provide additional clearance for chipset coolers or RAM modules with tall heat-spreaders. Run with a single fan on top, the NH-C14 provides a full 65mm of clearance.


SecuFirm2™ multi-socket mounting system
Noctua's enthusiast grade SecuFirm2™ multi-socket mounting provides broad socket compatibility (LGA1366, LGA1156, LGA1155, LGA775, AM2, AM2+ and AM3) and meets the highest demands in safety, performance and ease-of-use.


Noctua NT-H1 high-end thermal compound
Noctua's much-acclaimed NT-H1 is a well proven pro-grade TIM solution that provides minimum thermal resistance, excellent ease-of-use and outstanding reliability.
Customers who bought this product also purchased