Noiseblocker
140mm NB-BlackSilentFan XK2 - 1100rpm
[
ITR-XK-2
]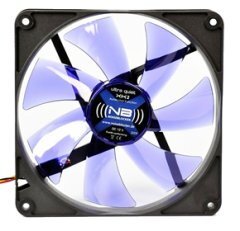 Click to enlarge
available: no
This product is not available
Specifications
Good quality does not have to be expensive like the new Silent Fan Series from (((Noiseblocker))) aver. The ideal compromise between loudness, quality and favourable price.
Designed in Germany
Productinformation

Performance
Loudness (db)

1100 u/min

19 dB/A
Details:

Original (((Noiseblocker))) Quality:


Also with this series we only use high-quality units an longlife bearings.

Ultra silent:


Perfectly on silent PC's co-ordinated numbers of revolutions for almost noiseless operation.

high reliability:


with NB-longlife sleeve bearings and NB-EKA Drive
economically priced and well

nearly no impuls noise


neither at 12V, nor at 4,5V(Startvoltage)
incl. autorestart funktion
The failure rate is below 0,10% on 100 000 units per year.

Warrenty : 3 years
Technical specifications:
Size : 140x140x25mm
Weight : 135g
Operating Voltage : 5-13,8 V
Start Voltage : <5 Volt
Input Power : 0,84 Watt
Input current : 0,07A (Max)
RPM at 12V : 1100 (+/- 10%)
Dielectric Strength : 5 mA (Max)
Static Pressure : 0,370 mm-H2O
Airflow max. m /h : 85 m3/h 50.07 CFM
Acoustical Noise (dB/A) : 19 dB/A
MTBF (25°C) : 80 000 Std.
Connector : 3 Pin Molex incl. RPM signal
For more technical informations please take a look at our datasheet.
More product information:
Produktion nach ISO9001(2000) & IO14001'
CE, TÜV, RU, RoHS Konform
Customers who bought this product also purchased