Noiseblocker
92mm NB-BlackSilentFan XE2 Rev3.0+Slics 1800rpm
[
ITR-XE-2
]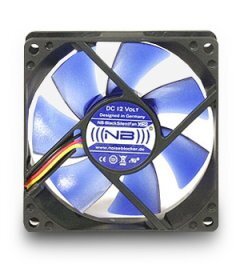 Click to enlarge
available: no
This product is not available
Specifications
Good quality does not have to be expensive like the new Silent Fan Series from (((Noiseblocker))) aver. The ideal compromise between loudness, quality and favourable price.
Designed in Germany
Productinformation

Performance
Loudness (db)

1800 u/min

21 dB/A
Details:

Original (((Noiseblocker))) Quality:
Also with this series we only use high-quality units an longlife bearings.
Ultra silent:
Perfectly on silent PC's co-ordinated numbers of revolutions for almost noiseless operation.
high reliability:
with longlife sleeve bearings and most modern design
economically priced and well
The failure rate is below 0,15% on 100 000 units per year.

Warrenty : 2 years
Technical specifications:
Size: 92x92x25mm
Loudness: 21 dB/A
Airflow: 65 m3/h
Connection: 3 Pin Molex

Customers who bought this product also purchased