Xigmatek
Retention Universal 775 Cooler on AMD - ATI775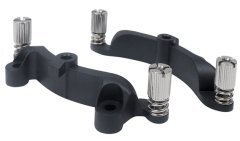 Click to enlarge
Specifications
SAFE AND SECURE FOR AMD
The advantage of ATI775 Retention Modules
is to ensure M3 screw mounted securely
on AMD platforms. There are 4 same mounting points as the Intel socket 775 style, thereby provide better contact with the CPU and cooler. This gives AMD platform users more flexibility
to adjust the air flow for achieving the best
cooling performance.
Overview
| | |
| --- | --- |
| | The advantage of ATI775 Retention Modules is to ensure M3 screw mounted securely on AMD platforms. |
| | |
| --- | --- |
| | There are 4 same mounting points as the Intel socket LG775 style, thereby provide better contact with the CPU and cooler. |
| | |
| --- | --- |
| | This gives AMD platform users more flexibility to adjust the air flow for achieving the best cooling performance. |
Features
| | |
| --- | --- |
| | Mounting the heat-sink in 4 different ways. |




| | |
| --- | --- |
| | Support for AM2 / AM3 / K8 Socket. |




| | |
| --- | --- |
| | Support for any design of LG775 or AMD coolers can install on it. |
Application
| | |
| --- | --- |
| | For all AMD AM3 / AM2 / K8 CPU |
| | |
| --- | --- |
| | XIGMATEK HDT CPU Cooler Series XXXX1 / XXXX2 / XXXX3 / XXXX4 / XXXX5 / XXXX6 |
| | |
| --- | --- |
| | For LGA 775 coolers installed to AMD CPU |
User's Manual

[ 6.26 MB ]
Customers who bought this product also purchased