Arctic
Alpine 64 Pro PWM Rev.2 AM2/AM3
[
UCACO-A64D2-GBA01
]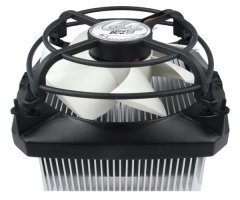 Click to enlarge
Specifications
Quiet Cooling Solution for AMD CPUs

Alpine 64 Pro offers outstanding price/performance ratio for mainstream users

Main features

• Ultra quiet 92mm PWM fan with low noise impeller
• Optimised heatsink efficient heat dissipation
• Patented fan holder eliminates the buzzing sounds
• Patented vibration absorption
• Pre-applied MX-2
• Easy installation

Enjoy quiet cooling at a reasonable price
The Alpine 64 Pro features a lot of high standard components. The 92mm fan comes with PWM function, which controls the fan speed, and thus, lowers the noise level to a minimum according to the CPU load. The PWM function guarantees sufficient cooling at the lowest noise level possible and saves energy simultaneously. Together with the patented fan case, low noise impeller and the vibration absorption, the Alpine 64 Pro is as quiet as 0.4 Sone at full speed (2,000 rpm).

Apart from the PWM fan, the Alpine 64 Pro also features an optimised heatsink and extremely low resistance thermal compound MX-2 for efficient heat dissipation from the core. The above high quality components offer excellent thermal and noise control management. Without a doubt, the Alpine 64 Pro is one of the most cost-efficient cooler of its class.


Easy installation
With the user-friendly design, the Alpine 64 Pro can be installed within seconds. Remove the standard cooler, place the Alpine 64 Pro on the CPU, lock two lugs with the retention module, and you are ready to enjoy the quietness brought by this cooler.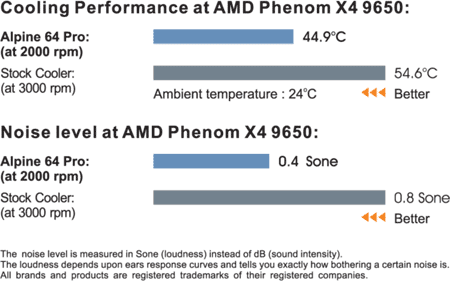 Specs:
Heatsink 105.3 L x 113.4 W x 84 H mm
Fan 92mm x 1
Fan speed 500 -2000 RPM (Controlled by PWM)
Air flow 36.7CFM / 62.2 m3/h
Maximum Cooling Capacity 90 Watts
Weight 428g
Patents DE 20307981, DE 202005011514
US 7101149, CN 200610106209
01 / 2010
Hardware Secrets: Alpine 64 Pro


Arctic Cooling Alpine 64 Pro is an inexpensive and quiet cooler, and thus a good option if you bought an AMD CPU without a cooler or if you want to change the stock cooler with something that makes less noise.
10 / 2009
PC SPACE: Alpine 11/64 Pro


If you are looking for a replacement of quiet performance cooler, the new models of Alpine Pro series will be your good choice. It offers very good pricing and pre-applied with MX-2, which achieve an even better result than the stock cooler.
10 / 2009
Tweaktown: Alpine 11 Pro


Everything considered, the Alpine 11 Pro is a champ for your 95W or lesser processor. Not only is the Alpine 11 Pro near silent most of the time, but even under the extreme loads I subjected it to, it was still reasonable to the ears.
10 / 2009
Modnews.ru: Alpine 11 Pro


Alpine 11 Pro is inexpensive, the quality cooler in budget class, which lets you experience all the delights of work for virtually silent desktop computer.For the ordinary user, this model is of great interest.
10 / 2009
FrostyTech: Alpine 64 Pro


The Arctic Cooling Alpine 64 Pro heatsink is suitable for processors with a thermal design power of 90W or less. At full fan speed the Alpine 64 Pro runs pretty quietly so Frostytech would suggest limiting its use to AMD Athlon II or AMD's energy efficient 65W processors.
09 / 2009
DragonSteelMods: Alpine 64 Pro


If noise is an issue for you, this is definitely a cooler that will make you happy. The fan design and rubber mountings make this thing nearly silent, even when running at full capacity under heavy load. The sound increase is undetectable unless you are really straining to hear it.
09 / 2009
Hardwaresecrets: Alpine 11 Pro


It can be an interesting solution to the user that has a low TDP processor and wants to replace the stock cooler without a great impact in its wallet.
09 / 2009
Clube do Hardware: Alpine 11 Pro


This cooler is sold here for less than $60.00, it becomes an interesting solution for those with a low-power processor and who want to replace the original cooler without spending much.
09 / 2009
DragonSteelMods: Alpine 11 Pro


The Arctic Cooling Alpine 11 Pro cooler is a nice upgrade over the stock Intel cooler, if you're looking for a way to lower your temps and lower the volume of your system then this would be the way to go. The Alpine 11 Pro is also small in size making it a great choice for small cases or even an HTPC setup.
09 / 2009
Hardware Bistro: Alpine 11 Pro


If you are looking for an entry CPU cooler without spending much on it then Arctic Cooling Alpine 11 Pro is one of the good choices among the rest of the entry CPU coolers. Arctic Cooling Alpine 11 Pro is not only come with decent cooling performance but also lower noise with its unique patented fan holder & vibration absorption which helps to minimize those unwanted noise without impacting the cooling performance. With 14USD, Arctic Cooling Alpine 11 Pro is definitely a super cheap deal you can get in town.
08 / 2009
Cowcotland : Alpine 11 Pro


For 10.95 Euros, it is a solution to replace your stock cooler and cool down your CPU. Regarding the noise level, no surprise the CPU cooler Arctic Cooling is better than the stock cooler.
07 / 2009
Freeocen.de : Alpine 11 Pro


Arctic Cooling's Alpine 11 Pro could really convince us in this test. The easy and fast mounting did please us a lot - also the price/performance ratio is very well. The Alpine 11 Pro is a good recomendation for users which are looking for a heatsink which is easy to mount and silent in operation.
06 / 2009
Orthy.de : Alpine 11 Pro


There's no way to get more performance for that little money. The Alpine 11 Pro is a super hot deal and THE oponnent of all annoying stockcoolers. In order to honor that we bestow the cooler the "Pr€is-Tipp"-Award.
Customers who bought this product also purchased