Scythe
CPU Cooler MUGEN 3 Rev.B 2011/1366/1155/775/AMD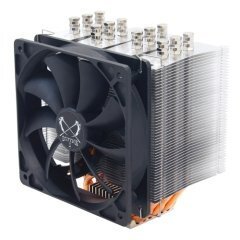 Click to enlarge
available: no
This product is not available
Specifications
Version 3 of Mugen provides higher compatility with a new more compactly designed fin and a thoroughly thought out backplate. The total cooling performance has been increased by refining the M.A.P.S. (Multiple Airflow Pass-through Structure). Mugen 3 comes with a "Slip Stream" PWM Silent fan for minimizing the noise level at low load as well as maximizing the cooling performance at heavy load. Rev. B provides additional compatibility with Intels LGA2011 socket.
Specifications
Model Name:
Mugen 3 Rev. B
Model Number:
SCMG-3100
Compatibility:
Intel®:
Socket T / LGA775
Socket LGA1155
Socket LGA1156
Socket LGA1366
Socket LGA2011
AMD®:
Socket AM2
Socket AM2+
Socket AM3
Socket AM3+
Socket FM1
Combined Dimensions:
130 x 108 x 158 mm / 5.12 x 4.25 x 6.22 in
Fan Dimensions:
120 x 120 x 25 mm / 4.72 x 4.72 x 25 in
Noise Level:
9.60 - 32.15 dBA
Air Flow:
14.7 - 88.11 CFM = 16.31 - 149.67 m³/h
Fan Speed:
300(±180 rpm) - 1,600 rpm(±10%)
Static Pressure:
0.34 mmH2O / 3.33 Pa
Weight:
825 g / 29.10 oz
Material of Base Plate:
Nickel-plated copper (more information)
Features
Compatible with LGA2011
Rev. B of Mugen 3 provides additional compatibility to Intels LGA2011 socket (Socket R).
F.M.S.B.4 (Flip Mount Super Back-Plate 4)
Introducing F.M.B.S.4 (Flip Mount Super Back-Plate 4) for higher compatibility with new generation Motherboards! This universally compatible Back-Plate is capable of mounting large coolers very rigidly on to your Motherboard.

Slip Stream PWM + Wide Range Cooling Purposes
The fan motor applied is a Slipstream PWM 120 x 120 x 25mm small axis large fan blade model, which minimizes the noise at low load, as sell as maximizing the performance of Mugen 3 at heavy load. The fan runs at the speed of 300 rpm (± 180rpm) ~ 1600 rpm (± 10%), generating an air flow of 14.7 CFM ~ 88.11 CFM = 24.98 ~ 149,7 m³/h at a noise level of 9.6 ~ 32.15 dBA. The overall cooling has been carefully designed to meet our Wide Range Cooling Purposes philosophy, providing high level performance for both silent cooling or over-clocking.

M.A.P.S. (Multiple Airflow Pass-Through Structure)
By introducing the newly refined M.A.P.S. (Multiple Airflow Pass-through Structure) the total cooling performance has been upgraded by optimizing the pass-through function of the airflow and enhancement of the sturdiness of the heatsink.
Awards
Customers who bought this product also purchased