Scythe
Fan 100x100x12mm Kaze Jyu SLIM 2000rpm
[
SY1012SL12M
]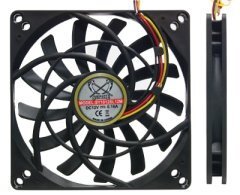 Click to enlarge
Specifications
Specifications
Model Name:
Kaze Jyu Slim 100mm Case Fan (2000rpm)

Model Number:
SY1012SL12M (2000rpm)
Dimensions:
100 x 100 x 12 mm / 3.94 x 3.94 x 0.47 in
Specifications:
29.22dBA / 27.60CFM = 48 m³/h / 12V / 0.16A (2000rpm Version)

Connector:
3-pin (4-pin adaptor included)
Cable Length:
30 cm / 11.81 in
Bearing Type:
Sleeve
MTBF:
30,000 hours


Weight:
58 g / 2.04 oz
Features
More Airflow at Lower RPM
By keeping the dimension of the center bearing hub as compact as possible & enlarging the blade surface, the Kaze Jyu Slim 100mm case fan can generate more airflow at lower fan RPM. This can allow a user to build a silent PC without compromising in noise.

Extra Hard Disk Mounting Accessory
By including the mounting kit for Hard Disk, this item can be conveniently converted as a Hard Disk cooler!

Equipped with Both 92mm & 100mm Screw Holes
By providing the screw holes for both 92mm & 100mm, Kaze Jyu Slim 100mm case fan allows the user to mount either as a 92mm or 100mm case fan.

3-Pin to 4-Pin Adopter Provided
To fulfill the demand for more users, Kaze Jyu 10cm case fan comes with the 3 to 4-pin to adopter.
Reviews and Publishment
Reviews for Kaze Jyu Slim 100mm Case Fan
dexgo.com (Oktober 21, 2008) in German - Silver Award
Customers who bought this product also purchased