VCom

Serial Port DB9 4C Molded F / F - CM043-1.5m


[

CM043-1.5m

]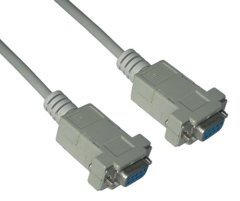 Click to enlarge
available: no
1.61
EUR
warranty:
12 months
Specifications:
Specification

1. serial port cable
2. DB9 female to DB9 female
3. Molding, nickel plated connector
4. PVC jacket: beige, white, black
5.Grommet tooling design and fabrication
Support remote wake-up and power management

Support Windows98/SE/2000/XP and Mac OS9.0/OSX/Linux

Support Windows Vista now

Suitable

Support over 1Mbps data transfer rate

for PDA and Modem.
Mainly used on computer mice and keyboards (PS/2), and video equipment (SVHS)
Can easily connect and transfer from USB interface to other interface of RS232, printer, keyboard/mouse.
Data transfer function makes work and life easy
IPC compliant class 2 and up
Monday 12 April, 2021
Copyright © 2002-2021 Dekada Digital
tel. +359 2 9433005 , +359 2 9434736 fax +359 2 846 39 10