Arctic
Freezer 7 Pro PWM
[
Freezer 7 Pro
]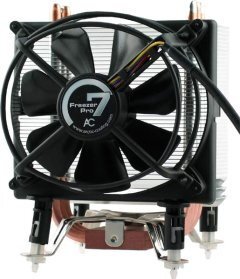 Click to enlarge
Specifications
Application:
Up to 130 Watts
Intel LGA775 Socket:
- All Intel Core 2 Extreme / Core 2 Quad / Core 2 Duo
- All Intel Pentium Extreme / Pentium Dual-Core
- All Intel Pentium D / Pentium 4
- All Intel Celeron D
Extremely Quiet
The low speed 92 mm fan reduces the noise level to a minimum.
The patented fan holder is able to practically eliminate the typical buzzing sound of 92 mm fans.
Patent No 203 07 981 U1 (Germany)
Patent No 10/834 232 (USA)
The PWM chip in the motor allows an exact fan speed control via BIOS. (4 wire)




Powerful cooling
6 Heat Pipes (three used double sided) are able to transfer heat up to 200 Watt. The heat exchanger is built of 42 fins and consists of a surface area of over 4700 cm2 and allows for resistance free energy transfer to air.




Integrated Cooling of Voltage Converters
Air is drawn in from the side of the fan to cool the components around the CPU.
Some air is blown out towards the voltage converters o­n the mainboard with the bent fins at the bottom.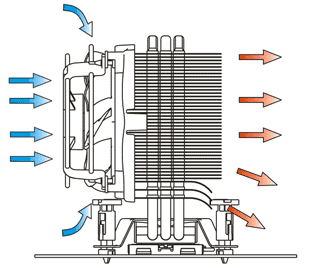 Patented Vibration Absorption
The four rubber connectors o­n the fan case act as a vibration damper to absorb the vibration of the running fan and prevent vibration transfer to the heatsink and the case.
Easy Installation
The cooler is to install without any tools within seconds.

Long Lifetime / 6 Years Warranty
The ARCTIC Ceramic Bearing provides an unmatched Life Time of 137'000h (L10@40°C) resp. an MTBF@70°C of 163'000h and thus a 6 year warranty.
| | | |
| --- | --- | --- |
| Heat Sink: | | 104 x 58 x 126.5 mm |
| Fan: | | 107 x 43.5 x 96 mm |
| Overall Dimensions: | | 107 x 96.5 x 126.5 mm |
| Rated Fan Speed: | | 900 - 2500 RPM (PWM) |
| Bearing: | | Ceramic Bearing |
| Power Consumption: | | 0.16 Amp. |
| Air Flow: | | 45 CFM / 77 m3/h |
| Weight: | | 520 g |
| Noise Level: | | 0.9 Sone |
| Thermal Resistance: | | 0.17°C/Watt |
| Thermal Interface Material: | | Pre-applied MX-1 / MX-2 Paste |
| | | |
Customers who bought this product also purchased